Free bandana with purchase!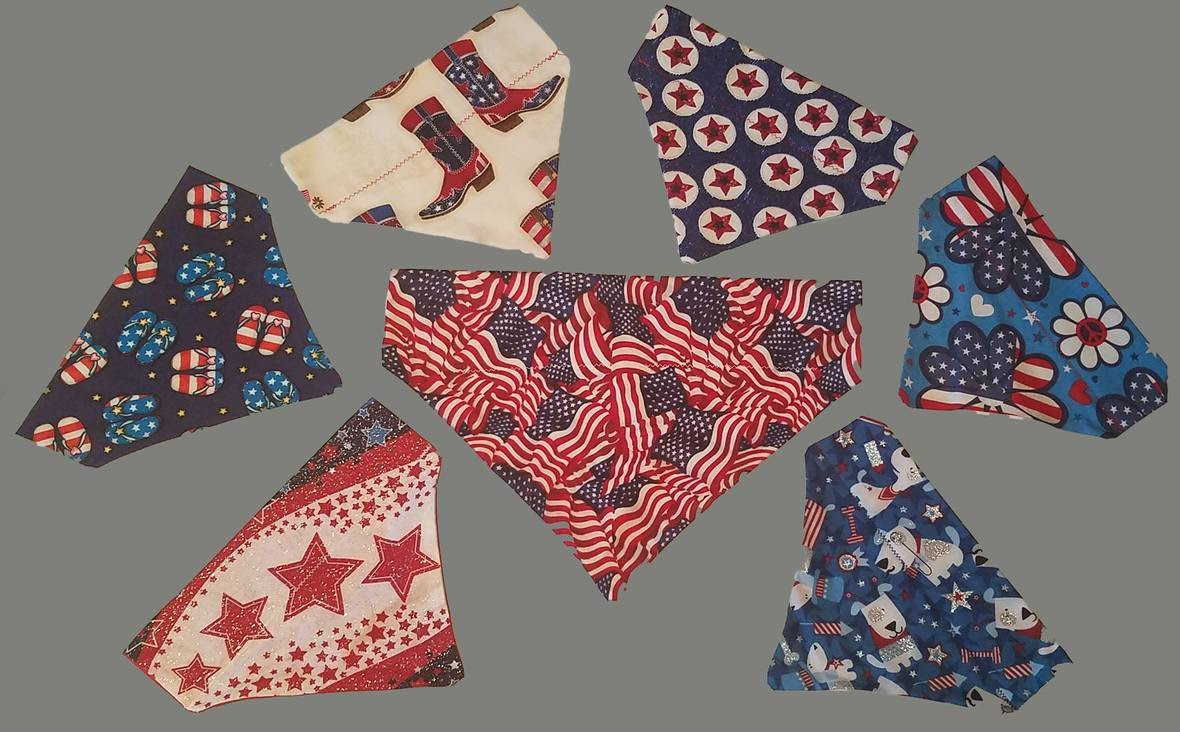 Summer fun!
Having served in the Navy, I always get a little nostalgic about the military on the 4th of July. The latest Paramount picture "Megan Leavy" got me thinking about the dogs who serve in our armed forces. Megan Leavy is a true story about a US Marine who was injured in Iraq with her dog Rex. Years later, she fights through bureaucratic red tape to adopt Rex and reunite with him when he is retired from duty. I wonder how the military recruits these dogs for service, and what type of training do they go through? Also, what happens to them when they retire?
Currently, there are around 2500 military dogs enlisted in the armed forces, and 700 serving overseas at any given time. Specialties range from bomb detection, search and rescue missions, and cadaver searches. Several sources state that a fully trained bomb detection dog is worth over $150,000 but the piece of mind they offer is priceless. No matter how much money you sink into technology, you can't beat a dog's nose. Military dogs are not only picked for their breeding, sense of smell, or athletic ability but several other qualities. Health is an important criterion. Hip dysplasia can be a curse on larger breeds. Trainers take special care in picking dogs free of this. Potential candidates are screened to ensure they will be able to handle the extreme stress of biting a human. Many dogs can not handle that much pressure.
Photo by: US Army
I was surprised to read that until 2000 retired military dogs were euthanized or abandoned after retirement until Robby's Law. They were labeled as "expendable surplus equipment" and treated like machinery. Robby's Law changed this. Now there are organizations like Save-A-Vet, which help place these warrior pups after they are decommissioned. Adopting one of these dogs is no easy task. First, you must fill out a two-page application, and a DOD specialist does a face-to-face interview if you are chosen. Then you are put on a waiting list for a wait of 2 months to a year. There is obviously a very high demand for these dogs. Once adopted the dog drops his Military Working Dog title, and the owner must pay for the transportation costs of delivery. Since they are considered "equipment" the military can not pay for these expenses. If adopted overseas it could cost up to $2000 to get the dog home. 90% of these dogs get adopted by their handlers.
Around 300 dogs are adopted each year, and 100 are eligible to be reassigned to law enforcement agencies. These are great programs for the dog, as well as the owner. I am glad that the military finally started giving these dogs the retirement that they deserve.
We are excited this year to be part of SuperZoo July 25-27th in Las Vegas. Stop by booth #2729 for a free gift with mention of this newsletter! #superzoo2017
This month's July giveaway for loyal Poo Doo Leash customers is a free State Paws bandana with any $50 purchase. Enter in coupon code "bandana" for your July 4th gift!
Please check us out on Facebook @poodooleash to see a list of upcoming Arts and Craft festivals we will be attending. Most are dog and family friendly.