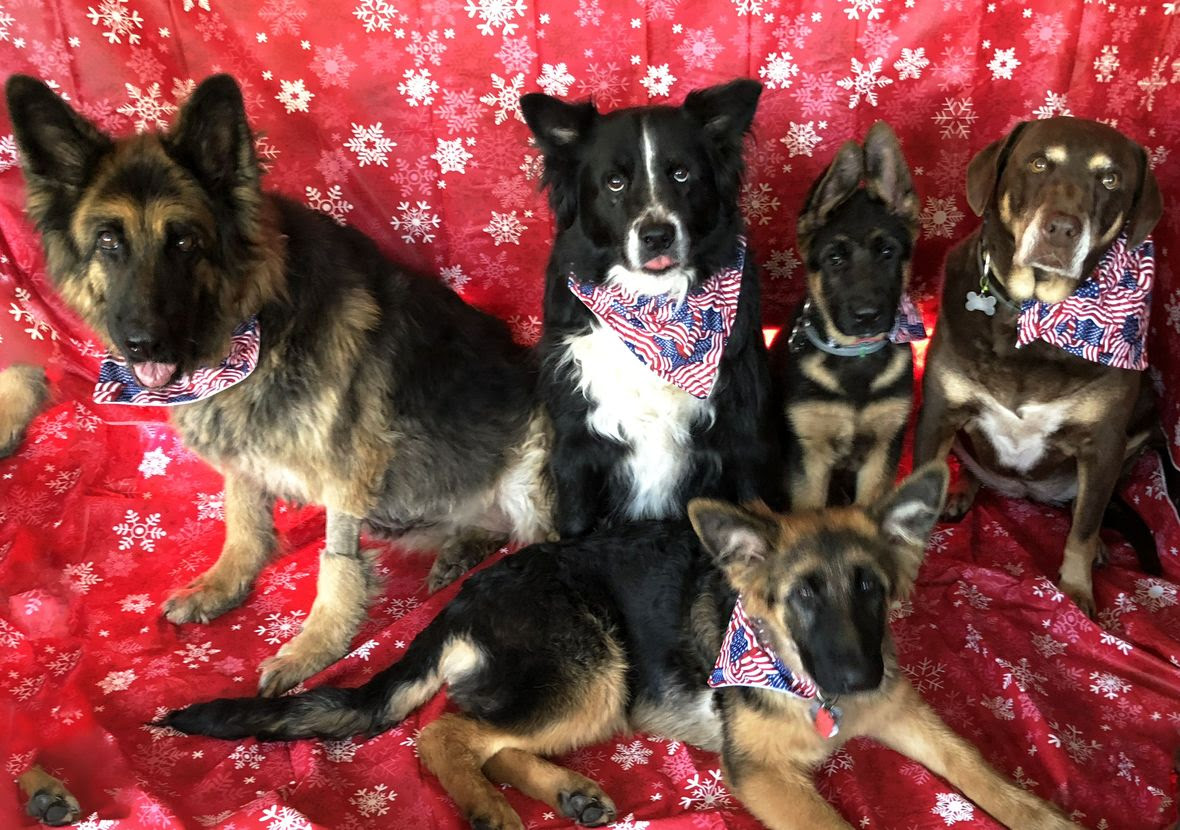 Happy Holidays!
This year has been quite busy and I hate that we have not communicated more on a regular basis. Anyway…..
The Holidays are here! Many of us are looking forward to enjoying some delicious food with our friends and family members. Just be sure to keep your pet's health and safety in mind as you prepare for days ahead. Holidays can be very dangerous for pets and we need to keep an eye on what Fido is getting into.
Treats
Your pet will definitely appreciate a special holiday treat. Feel free to give your dog or cat some plain, cooked meat without the skin, bones, or fat. Store-bought pet treats made in the USA are ideal. Fluffy may also enjoy a can of tuna, while Fido may perk up over a plain hamburger or some shredded deli meat. However, many people-foods are toxic to pets, so be very careful with what you offer your animal companion. Some dangerous foods include garlic, onions, scallions, or chives; meat on the bone; raw foods; grapes, currants, or raisins; chocolate; xylitol; or caffeine.
Guests
Just like people, pets all have their own personalities. Some see guests as opportunities for extra ear scratches and cuddles, while others can get quite uncomfortable around strangers. If your pet is nervous, put your timid buddy in a quiet back room with food, toys, and treats during the meal. This is also a good tactic for pets that beg a lot. You may find your furry pal's dinnertime theatrics charming, but begging really is bad etiquette, and can make people uncomfortable.
Hazards
In addition to the unsafe foods we mentioned above, candles, decorations, and garbage also present serious hazards to our fur-baby's. If you're having a lot of people over, you'll also want to keep a close eye on Fido and Fluffy as people are coming and going; you don't want your animal companion getting stepped on, or slipping out an open door!
Pet Gratitude
At the end of the day, the Holidays are really about gratitude and spending time with loved ones. Our four-legged friends are definitely something to be grateful for! They make our houses into homes, provide us with unconditional love and loyalty, and keep us smiling with their adorable antics. Why not get your pet a new Poo Doo Leash, deer antler, or Poo Doo portable food and water bowl as a Holiday gift?
Exciting news for January 2018! Poo Doo Leash will debut at Atlanta's AmericasMart January 11-15, 2018. Stop by and see us!
This month's giveaway for loyal Poo Doo Leash customers include a 10% off with the coupon code "holiday". Also, with this coupon code we will donate an additional portion of the sale to a legal charity of your choice. Just write in the comment section which charity you would like the contribution made.
Please check us out on Facebook@poodooleash & Facebook@statepaws to see a list of upcoming Arts and Craft shows we will be attending. Most are dog and family friendly.
Happy Holidays from Poo Doo Leash!!
Rhonda Pinkerman, Founder